Stuckmeyer's Farm
"Where Quality is Homegrown"
We offer a wide variety of bedding plants and garden vegetables.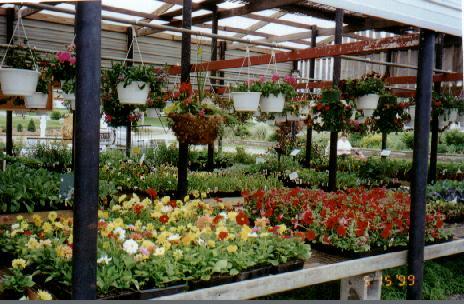 Click Here for more Greenhouse Pictures

Here are a few of the plants we have......
Argeranthemum, Ageratum, Alyssum,
Bacopa, Begonias, Sun Lover Coleus, Cleome, Cosmos,
Dracaena (spike), Dahlberg Daisy, Dahlia, Dusty Miller,
Geraniums, Ivy Geraniums, Heliotrope, Ipomea (Sweet Potato Vine),
Lantana, Mandevilla, Marigold, Petunias, Rudbeckia, Scaevola,
Snapdragons, Torenia, Trailing Petunia, Verbena,
Vinca, Zinnias and much more!!!
And for the Vegetable Enthusiasts
We offer a wide variety of Vegetable Plants:
Tomatoes and Peppers
Broccoli and Cauliflower
Lettuce
Herbs
Onion Sets and Plants
Seed Potatoes
Coming Late Spring (Early May)
Cucumbers
Cantaloupe and Watermelon
Eggplant
Pickles

Stuckmeyer's Garden Center
  Last revised:4/04/01                                                           Copyright 2000 stuckmeyers.com