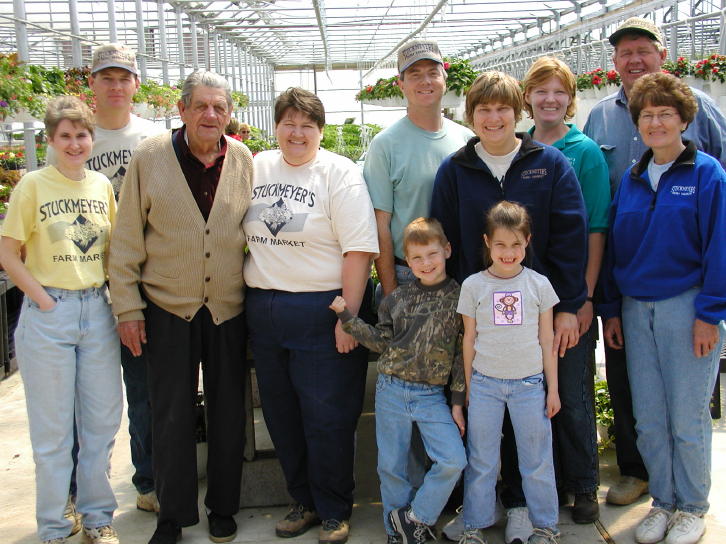 Four Generations Strong
Ralph and Jean's Children
Michael and Stacy Stuckmeyer, children Eric and Anne-Marie
Phil and Janet Leckrone, children Erin and Kyle
Randy and Linda Beckemeier, children Daniel
Robert and Connie Stuckmeyer, children Jacob, Justin and Joseph
Jo Ann Stuckmeyer
Randy and Cheryl Stuckmeyer, children Steven and William
History of
Stuckmeyer's Farm and Market
Walter Stuckmeyer (born in 1911), his Father and brothers had a farm just on Kingshighway and Gravois that back in the 1920's was the outskirts of St. Louis. As the sons got married they each bought farms to raise produce.
When Walter married Marie Keller in 1935, Great Grandpa and Great Grandma started the original Stuckmeyer farm on Pardee Road by Grant's Farm (Anheuser-Busch home and farm tour center) farther out in St. Louis County. They farmed 4 acres with their 4 children. They farmed strictly for the wholesale market. They sold most of their produce on the Sarah Street Market in St. Louis. Great Grandpa would take a load of produce three nights a week. In later years they sold on St. Louis Produce Row market, which is now the main St. Louis wholesale market in downtown St. Louis, Missouri. In 1954 they bought 12 acres the present location of Stuckmeyer's Farm and Market just outside of the St. Louis County limits in Jefferson County, Missouri. They worked the ground so that they could raise vegetables on this farm. In 1964 Great Grandpa sold the St. Louis county farm and moved everything to the present farm. Walter Stuckmeyer had four children. Two of the sons, Walter Jr. and Ralph continued to work the present farm. When they both got married, their families work together to raise produce for the wholesale market. Walter Jr. married Hermetta and Ralph married Jean Farwig. Walter Jr. had two children and Ralph and Jean had six children. In 1984, Walter Jr. and his son decided to buy a farm in Illinois so his son could farm for a living.
In 1984, Ralph, Jean and their family starting converting the farm into a retail business. The area around the farm was growing and more traffic was present. At first they sold produce off an old farm wagon on what is now Old Highway 141, just a two-lane road. Later they built a market with just a gravel floor and a small greenhouse. As the years went by, they added to what is now the present produce market. The single greenhouse is now a combination of a little over an acre of connected greenhouses. Stuckmeyer's Farm and Market now consist of almost 200 acres from the original 12 acres at the present location.
Three of Ralph and Jean's children work full time on the farm, Janet Leckrone, Linda Beckemeier and Randy Stuckmeyer. One brother Mike works as an accountant, Robert works for a power company and a sister Jo Ann is an actuary. All of Ralph and Jean's children still help with the farm. On the weekends almost everyone helps out including their spouses and children. Ralph and Jean's Grandkids are now the fourth generation on the Stuckmeyer Farm and Market.
(HOWEVER OVER THE FLOWERS TO VIEW OUR GENERATIONS)