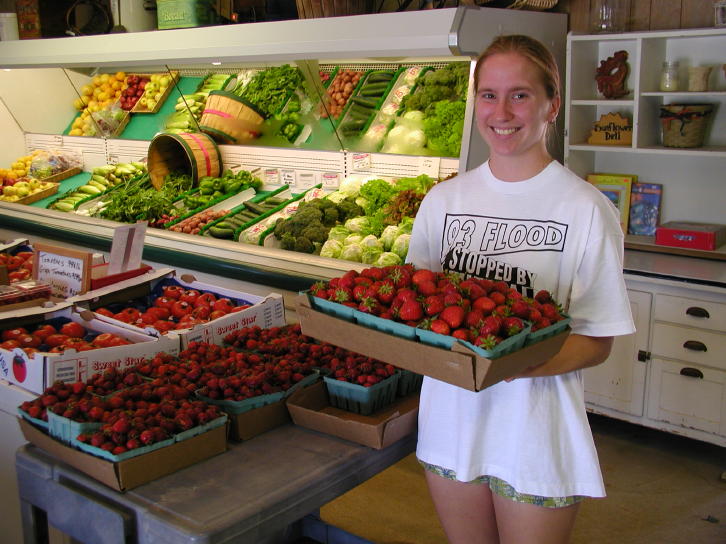 Vegetable Notes –
Updated 7/8/20 – Sweet Corn and Tomatoes are in, we are harvesting daily for our market. We are also harvesting green beans, green onions, beets, many kinds of peppers, egg plant, zucchini, yellow squash, cucumbers and pickles. Watermelons and cantaloupe from southern Missouri is going to be a little late this year because of the big hail storm they had earlier this year, looks like we will bring some up around the 17th of July. We have been hauling peaches from Campbell, Missouri. They also have hail damage that is mainly just on the skin, but they really have a good flavor and they are free stones. If you are looking for large quantities of produce to use for canning, Salsa, etc. call our market at 636-349-1225 and they can take your orders. The corn is unbelievable this year.
Updated 6/16/20 – Weather is starting to get warm and dry. Still cutting lettuce, radishes and green onions. Beets are starting, along with zucchini, and yellow squash. Cucumbers, pickles and peppers are close to being harvested. Next on the list will be tomatoes, eggplant, green beans and corn will be ready around July 4th. We plan on hauling peaches, watermelon and cantaloupe from the Missouri Bootheel again this year. Peaches should be ready near end of June. We picked up a load of Arkansas tomatoes last night, so we have those available at our farm market.
Updated 5/17/20 – We started cutting a lot of lettuce this weekend, green leaf, red leaf, Romaine, and some Boston that is very nice, young and tender. Also harvesting spinach, radishes (even white icicle radishes) and green onions. I was able to pickup some nice Rhubarb on the market tonight so if you are looking to make Rhubarb pie or cooked Rhubarb it has some really nice red color. Our market is stocked full, nice fruit and vegetables. Bing cherries are in and we have apricots that have been selling fast. We are also offering on line ordering for items from our market for curbside pickup. Stop by and see what we have to offer in our market. We were able to get a lot planted last week, so if the weather cooperates, we should have a good selection of homegrown items for our market.
Updated 5/13/20 – It has been a cool spring so far. Looks to be changing to warmer temperatures by the end of the week. We are currently harvesting red leaf lettuce, green leaf lettuce, green onions and spinach. We have been busy in the fields planting tomatoes, peppers and eggplant. So far things are looking good. We needed this rain today and it was starting to get dry. We plan to update this section as much as possible. Vegetable market is fully stocked. We did get some shipped in rhubarb that is very nice.
Updated 3/26/20 – Currently have Spring plants growing in the greenhouse waiting to transplant out into the fields. We plan on carrying a full line of Stuckemeyers homegrown produce just like the previous years.
Hauling Apples
from 2007 Pictures
Pictures of tomato patch early.

Stuckmeyer's Sweet Onions turned out extremely good. We
planted almost 18,000 plants.
Linda, Ralph and Jean Planting Onions
Load of Red and White Onions
We had so many onions this year will we
ran out of space to hang onions, we ended up with overflow in shed hanging
them with a ladder!
(notice roll bar of tractor)
Peppers and Eggplant just after
planting

Ralph and Randy planting cucumbers earlier
in the season

Ralph is planting cucumber seed with an antiquehorse (converted to tractor) drawn planter. Randy is driving.
Plus much more I have not listed!
Picked Fresh Daily
Farmers Market Information
Stuckmeyer's Homegrown Schedule

April

May

June

July

Aug

Asparagus


X


X

Beets


X


X

Blackberries


X


X


X

Cabbage


X

Cantaloupe


X


X

Cucumbers


X


X


X

Dill


X


X

Eggplant


X


X

Green Onions

X

X


x

Green Beans


X


X


X

Lettuce

X

X

Okra


X


X

Onions


X

Peas


X

Peppers


X


X

Potatoes


X

Radishes


X

Rhubarb


X


X

Spinach

X


X

Strawberries


X


X

Sweet Corn


X


X

Tomatoes


X


X

Watermelon


X


X

Zucchini


X


X


X